Credit Card Products and Accessories
Now you can process a Visa, MasterCard, Discover, and American Express at a small percentage per swipe.
Just swipe payments at any time without a connection in Offline Mode.
Send receipts via email or text message
Connect a receipt printer to an iPad
Personalize your signature screen
Receipts with a logo and cover photo
Customers can sign and tip right on the device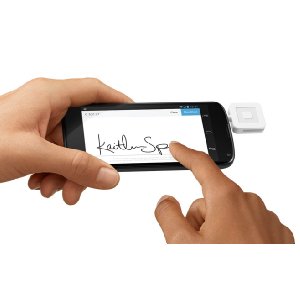 Square is a revolutionary service that allows you to accept credit cards, using a reader that plugs into your iPod touch, iPhone, or iPad along with an easy-to-use app. There's no need for complicated contracts, monthly fees, or merchant accounts. All you pay is a fee per transaction. You download the app from the App Store to easily run your business and track analytics. Square is available for use in the US and Canada.
Free Square updates keep you equipped with the latest features.
Accept payments—even without a connection.
Send receipts via email or text message, or print them out.
Collect customer feedback from digital receipts.
Print or email sales reports.
Adjust taxes, tipping, and discounts.
Manage inventory in real time.
Accept orders online for pickup in person.
Create individual logins for employees.
Send invoices from your mobile device.