Abercrombie Credit Card and Gift Card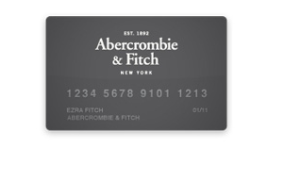 Apply For A Store Credit Card
No Annual Fee
Convenient Minimum Monthly Payments
No interest charges apply when the entire account balance is paid in full before the end of billing cycle. Accounts are subject to an APR of 24.99%, this rate may vary, minimum monthly FINANCE CHARGE of $1.00. Please see Terms and Conditions for applicable rate, fee and cost information
The Abercrombie & Fitch credit card is accepted for all of your purchases online, from the A&F Catalog, and in our stores.
---
Purchase a Gift Card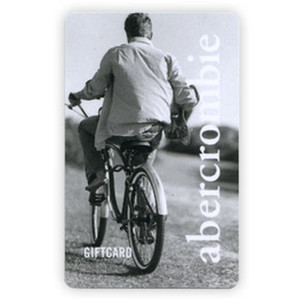 PURCHASING
To purchase a Gift Card visit abercrombie.com. Choose the amount: $25, $50, $100, $200.
Gift Cards cannot be replaced if lost or stolen. All sales of Gift Cards are final and will not be refunded.
REDEEMING
Gift Cards purchased online or at an Abercrombie & Fitch store may be redeemed at Abercrombie.com or abercrombiekids.com, or at any Abercrombie & Fitch or Abercrombie store location in the United States or Canada. Gift Cards cannot be redeemed for cash unless otherwise required by applicable law. To redeem your Gift Card online, enter in the 16 digit account number including PIN in the 'Gift Card' field on step 3 of checkout.
EXPIRATION
Gift Cards purchased at one of our stores or online at Abercrombie.com do not have an expiration date. These terms do not apply to Gift Cards received in conjunction with Gift Card special events.
Add Authorized Buyer
With this card you are also able to add someone to your (Authorized Buyer) account that may make purchases. They will be authorized to purchase on your Account; however, as the primary account holder, you are responsible for payments on all purchases.
When you open an account you may add up to four total authorized buyers.