Boscovs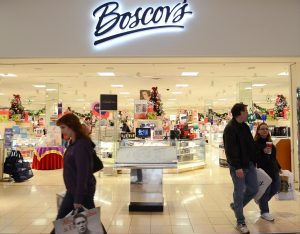 Boscov's Credit Card Application
Benefits Include:
•No annual fee
•Exclusive sales and events
•Buy now, pay later with Boscov's Holiday Money (Available Sept.-Dec.)
•Earn up to 4 rewards points for every dollar you spend
•Save up to $15 off your total purchases the first day the account is activated
•Boscov's Credit Card can be used in store, online, and over the phone.
---
About Boscov's
Boscov's is one of the most popular department stores on the east coast.
Boscov's offers brand-name merchandise for men, women and children. Specializes in fashion, accessories,
shoes, cosmetics, jewerly, perfume and so much more. Boscov's also specializes in a complete line of home furnishings. For instance,
bed and bath, curtains and drapes, kitchen, small appliances,tabletop, home electronics, bedroom domestics, painting, pictures,
and giftware are just some of the home furnishing catagories. Boscov's also offers a wonderful bridal registry for brides-to-be.