About AT&T Stores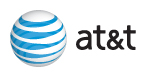 AT&T is the nation's largest wireless company and the premier telecommunications company in the world. And with the largest digital wireless voice and data network in the country, exclusive devices like the iPhone, unlimited calling to the largest Mobile to Mobile calling community, and advantages like Rollover Minutes, it's easy to see why.
AT&T helps connect people to their worlds wherever they live and work.
AT&T offers great Value, peace of mind, and no surprises.
AT&T lets you keep your unused minutes month to month. (Rollover Minutes)
Need a great reason to choose AT&T? How about unlimited calling to over 72 million people?